Things to Do in Tulsa Oklahoma: Your Ultimate Guide to Adventure
Looking to explore Tulsa, Oklahoma? You're in the right place. We've got the scoop on all the best things to do in this vibrant city brimming with culture, history, and outdoor adventures. Known for its dynamic art scene and beautiful parks, Tulsa promises an unforgettable experience for all types of travelers.
From wandering through world-renowned museums to enjoying live performances at historic theaters, many activities are awaiting you in Tulsa. If you're a history buff, you'll appreciate the rich heritage preserved in local landmarks.
Outdoor enthusiasts will find plenty of exciting options, too – think scenic hikes, riverfront walks, and even stunning botanical gardens!
Whether you visit during one of our lively festivals or simply want to savor our unique blend of Southern charm and cosmopolitan flair, we're confident you'll fall in love with what Tulsa offers! So buckle up as we take you on a virtual tour around this gem nestled right in the heartland of America.
Uncovering Tulsa's Hidden Gems
We're setting out on a journey to uncover some of Tulsa, Oklahoma's best-kept secrets. It's not just the city's renowned Art Deco architecture or its vibrant music scene that defines this place; plenty more treasures are waiting to be discovered.
First up, we've got the Philbrook Museum of Art. Nestled within beautiful gardens, it's an Italian Renaissance villa turned museum and one of Tulsa's most stunning sights. Here, you can explore fascinating exhibits spanning various cultures and time periods.
Ever heard of the Cave House? It might sound like something out of a fairy tale but it's right here in Tulsa! This unique house, with its unusual architecture, has a history as intriguing as its appearance.
The next stop is Woodward Park – an exotic paradise smack dab in the middle of urban life. With over 45 acres filled with colorful botanical gardens, exotic plants, and breathtaking landscapes, it's no less than a visual feast for nature lovers.
And let's not forget about our quirky little gem – The Center of The Universe. Sounds grandiose? Well, it kind of is! When you stand at this spot downtown and speak, your voice echoes back louder to you than anyone else around. Now, that's something you don't stumble upon every day!
Note: These aren't all there is to see in this amazing city; they're just starters setting us on course for our adventure ahead.
Experience the Thrill of Tulsa's Outdoor Activities
Let's not forget, Tulsa, Oklahoma is a city that thrives in the great outdoors. Bursting with various outdoor activities, there's no shortage of adventures waiting for you under the Oklahoman sun.
We're talking about the stunning River Parks system first. It isn't just a park – it's over 26 miles of paved trails running along both sides of the Arkansas River. Whether you're into biking, running, or simply enjoying a leisurely stroll, this spot has got you covered. And if you're up for some water fun, kayaking and paddleboarding options are aplenty here too!
Then we've got Turkey Mountain Urban Wilderness Area – the name says it all! This piece of wilderness right within city limits offers more than 300 acres filled with hiking and mountain biking trails. You'll also find yourself amidst diverse wildlife while getting lost in its beauty.
But wait! Have we mentioned golf? Home to numerous top-rated golf courses like Southern Hills Country Club and LaFortune Park Golf Course, Tulsa is nothing short of paradise for golf enthusiasts out there.
For those interested in bird-watching or fishing, Keystone State Park is where you'd want to be. With its serene lakeside setting and abundant wildlife, it's guaranteed to offer an unmatched outdoor experience.
The adventure doesn't end there; let's not forget Oxley Nature Center's mesmerizing landscapes that change every season. For fans of disc golf, Chandler Park should be on your list, too!
Savoring Tulsa: Top Local Eateries to Try
We're about to embark on a culinary journey through the heart of Tulsa, Oklahoma. Food is an integral part of any city's culture and Tulsa isn't an exception. This city has something for every food lover, from mouthwatering BBQ joints to delectable seafood spots.
Let's start with a local favorite – Burn Co Barbecue. Known for their succulent smoked meats cooked over hickory wood, it's hard not to fall in love with their menu. It's not just us saying that – according to TripAdvisor, they're the number one eatery in all of Tulsa!
Next up we've got Juniper Restaurant & Martini Lounge, a place that pairs exceptional cocktails with seasonal American cuisine. They've got a knack for putting creative twists on traditional dishes, which keeps locals coming back time and again.
For those with a sweet tooth, don't miss out on Antoinette Baking Company. This bakery is renowned for its French-inspired pastries and cakes that are as pleasing to the eye as they are delicious.
Here's how these top eateries stack up:
| Eatery | Specialty |
| --- | --- |
| Burn Co Barbecue | Smoked meats |
| Juniper Restaurant & Martini Lounge | American cuisine with creative twists |
| Antoinette Baking Company | French-inspired pastries |
While these three restaurants represent some of the best eats in town, plenty more culinary gems are scattered throughout this vibrant city.
Lassalle's New Orleans Deli brings you authentic Cajun flavors.
Savoy Restaurant lets you start your day right with homemade cinnamon rolls.
Stonehorse Cafe serves up gourmet dishes in an elegant setting.
So whether you're craving smoky barbecued ribs or beautifully crafted pastries, savoring Tulsa means diving headfirst into its diverse food scene!
Dive into History at Tulsa's Museums
We're taking you on a journey to the heart of Tulsa, where history comes alive in its many museums. From its rich Native American heritage to the oil boom era and beyond, there's so much we can learn and appreciate about this dynamic city.
The first stop has got to be Gilcrease Museum. It's home to one of the world's most comprehensive collections of American Western art. We're talking not just paintings but also historical manuscripts, documents, and maps that paint a vivid picture of America's past.
Gilcrease Museum Highlights

Thomas Gilcrease Collection of American Art
Extensive collection of Native American artifacts
The Kravis Discovery Center
Now, let's switch gears and enter the Golden Age at the Tulsa Art Deco Museum in the Philcade Building downtown. This small museum is jam-packed with exhibits showcasing Tulsa's impressive Art Deco architecture during the oil boom years.
Tulsa Art Deco Museum Highlights

Philcade Building Architecture
Historical photographs from the oil boom period
Variety of unique Art Deco objects
Last but certainly not least is The Woody Guthrie Center. It's a treasure trove dedicated to preserving Woody Guthrie's body of work and celebrating his life-long belief in social justice. If you're a music lover or even if you're simply interested in learning more about social movements, this place will fascinate you.
Woody Guthrie Center Highlights

Interactive exhibits on Woody Guthrie's life
Educational programs promoting social justice
Rare artifacts, including original song lyrics
So buckle up! There's so much more waiting for us as we go deeper into Tulsa's captivating history through its incredible museums.
Tulsa Nightlife: Best Spots for Entertainment
Diving into the vibrant nightlife of Tulsa, Oklahoma, is a must when you're visiting. We've uncovered some of the best spots to make your evenings unforgettable.
First off, let's talk about Cain's Ballroom. This historic music venue has hosted big names like Bob Wills and the Texas Playboys since 1924. It's known as "The Carnegie Hall of Western Swing" and it offers live music most nights with a sprinkling of dance lessons thrown in for good measure.
Next on our list is The Max Retropub. This place immerses you in all things the '80s and '90s – from arcade games to vintage movies playing on a loop. Whether you're an old-school gamer or just nostalgic for simpler times, this bar won't disappoint.
Looking for something more laid-back? Hodges Bend might be right up your alley. Known for its fantastic cocktails and cozy atmosphere, it's perfect if you're after a quiet night out.
If craft beer is more your style, American Solera should be on your radar. They've been named one of the top new brewers in the world by RateBeer – high praise indeed! With their vast selection of unique brews, they offer something for every beer enthusiast.
Last but certainly not least, we have Dust Bowl Lanes & Lounge – a retro bowling alley with a full-service bar offering classic cocktails and local beers alongside hearty American bites.
Remember, these are just starting points; there's so much more to explore in Tulsa's nightlife scene! So get out there and find some fun under those Oklahoma stars.
Shop Like a Local in Tulsa, Oklahoma
We've got the inside scoop on how to shop like a true Tulsan. Whether you're in town for a few days or planning to settle down, we'll guide you through some of the best local shopping spots that Tulsa, Oklahoma, has to offer.
First up is Utica Square. This outdoor shopping center is teeming with high-end boutiques and well-known brands alike. We're talking about stores like Saks Fifth Avenue mixed with unique shops such as Abersons and Queenies Plus Too. Strolling around Utica Square isn't just about retail therapy; it's also an experience filled with beautiful gardens and charming architecture.
Next on our list is Cherry Street. If you want to dive into Tulsa's artsy side, this is your spot. Peppered with antique stores, indie bookshops, and art galleries, Cherry Street offers an eclectic mix of shopping options that are sure to intrigue your senses.
For those who prefer indoor malls, Woodland Hills Mall won't disappoint. With over 165 stores ranging from Apple to Zara, it's one of the largest malls in the region, oozing plenty of choices for every shopper out there.
Utica Square: High-end boutiques + well-known brands
Cherry Street: Antique stores + indie bookshops + art galleries
Woodland Hills Mall: Over 165 diverse shops
Don't forget about Tulsa's Farmers' Markets either! They're perfect for picking up fresh produce while supporting local farmers and artisans. Some popular ones include Cherry Street Farmers Market and Brookside Farmers Market, which operate seasonally, offering organic vegetables, locally made cheeses & more!
To sum it up, Shopping in Tulsa offers a bit of everything – from upscale fashion brands to quirky independent retailers right down to vibrant markets brimming with fresh local products.
Family-Friendly Attractions in Tulsa
Exploring Tulsa, Oklahoma with kids? We're here to guide you through some of the city's most family-friendly attractions. It's true that our city is brimming with places designed to engage young minds and create lasting memories.
First on our list is the Tulsa Zoo. Home to over 3,000 animals representing 400 species, this place is a hit for children and adults. From feeding giraffes to riding on the Safari Train, there's something for everyone here. Don't forget about the Children's Zoo, where little ones can get hands-on animal encounters!
Next up, we have the Oklahoma Aquarium, an aquatic wonderland housing thousands of marine creatures from around the globe. Kids will love watching sharks swim above them in the walk-through tunnel and touching stingrays at Stingray Bay.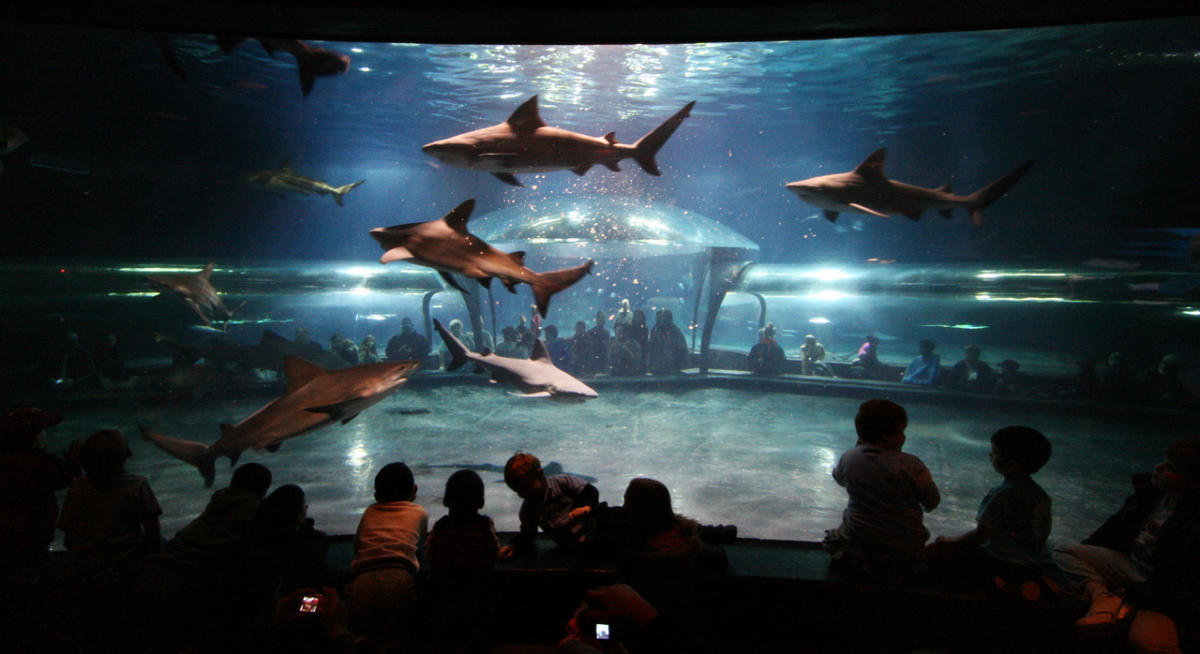 Discovery Lab – Tulsa Children's Museum deserves a mention, too! This isn't your typical museum; it's a hands-on experience encouraging kids to learn through play. Here, they can build rockets or skyscrapers, create art projects, or even put on a performance in Discovery Lab Theater!
If you're looking for outdoor fun, head over to Gathering Place Park. Voted USA Today's Best New Attraction in 2019, this park features playgrounds for all ages, sports courts, and free programming like concerts and dance lessons.
Finally yet importantly is The Tulsa Air and Space Museum & Planetarium which allows family members of all ages explore Oklahoma's aviation history as well as discover exciting things about space and planets.
To sum up:
Oklahoma Aquarium
Discovery Lab – Tulsa Children's Museum
Gathering Place Park
The Tulsa Air and Space Museum & Planetarium
We hope our roundup gives you plenty of ideas for your family's visit to Tulsa, Oklahoma. Happy exploring!
Wrapping Up Your Tulsa Adventure
We've journeyed together through the vibrant and captivating city of Tulsa. Now, we're wrapping up our adventure, but it's clear there are still so many unexplored corners left in this Oklahoma gem!
Tulsa is a city that has something for everyone. We've strolled through lush gardens, admired world-class art collections, and soaked in the rich cultural history unique to this part of the country.
Don't forget about those unforgettable food experiences too! From authentic Southern BBQ to gourmet fine dining – your tastebuds have had quite the vacation.
Here's a quick recap of some highlights from our Tulsa tour:
Exploring nature at Gathering Place
Discovering native wildlife at the Tulsa Zoo
Imbibing in local brews along the Ale Trail
Enjoying live entertainment at Cain's Ballroom
Unearthing history at Gilcrease Museum
The sights we've seen and experiences we've had merely scratch the surface of everything Tulsa offers.
This isn't a goodbye; it's an invitation to come back and explore more. Each season brings new happenings around town, adding fresh layers to its charm. So whether you're visiting again or sharing your experience with others planning their trip – remember that there's always another exciting adventure waiting for you in Tulsa.
In essence, we hope this guide has been helpful as you plan your trip or simply get a taste of what makes Tulsa such an enchanting city to visit. After all is said and done, one thing remains certain – when it comes to finding things to do in Tulsa Oklahoma, we're never short on options!